Presentations­teknik – program
Vi har utvecklat ett utbildningsprogram i presentationsteknik som sträcker sig över 28 dagar och omfattar ca 15 tim. Programmet innehåller självstudier, gruppsessioner och en coachingsession med individuell feedback. Hela programmet kan genomföras digitalt men workshopparna och coachingsessionen kan också genomföras live. Programmet är på engelska men är textat på svenska.
Presentationsteknik
Presentation Skills for Groups
Do you want to improve your presentation skills? Do you want to be better at getting your message across? Do you want the chance to train in a group? And do you also want personalized feedback? Then this is the program for you. The program covers 15 hours and extends over 28 days. The course includes group workshops, self-studies and a coaching session. The course is run remotely but it is possible to run the coaching session and the workshops live. The course is in English but with Swedish subtitles.
Target group
This program is for anyone who wants to improve their presentation skills. You may be an engineer, lawyer, economist, communicator or manager. The course is conducted partly individually and partly in groups of 6-10 people.
You will learn to
speak effectively and interestingly to others
perform in a lively, confident and trustworthy manner
handle unexpected situations and audience reactions
improvise while remaining calm
attract even an elusive audience
get complicated or negative messages across
become more aware of who you are in the eyes of others.
Course structure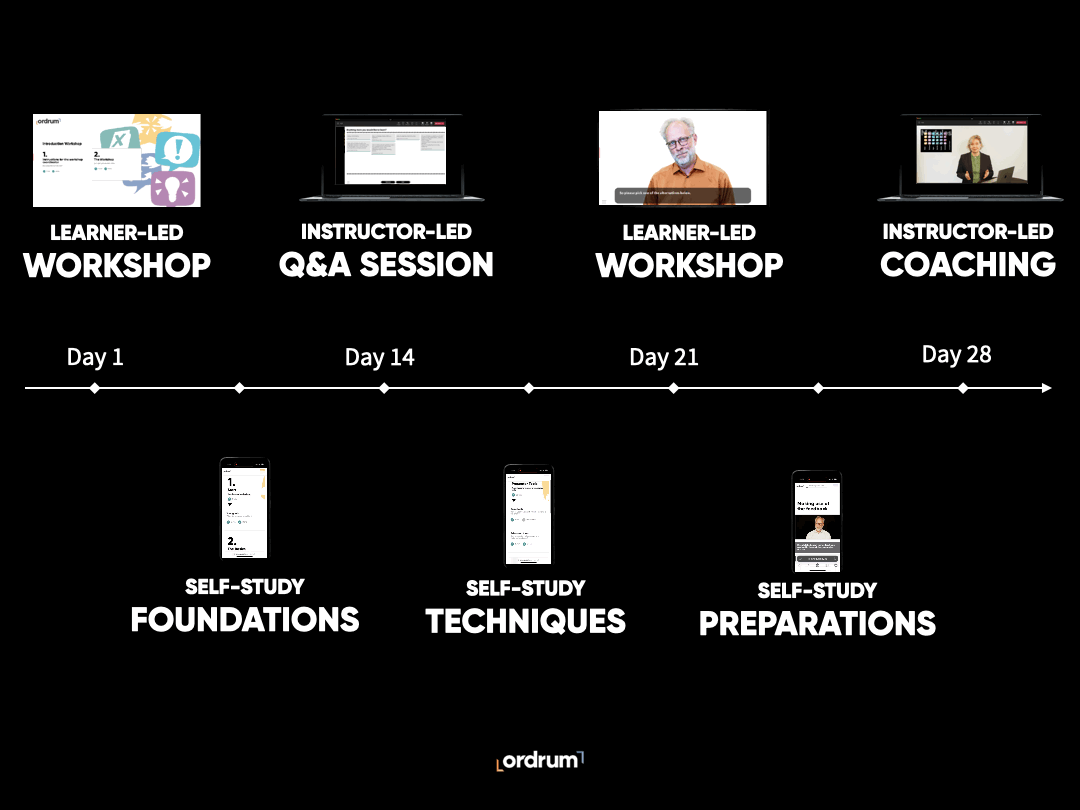 Contents

DAY 1: INTRODUCTORY WORKSHOP
Leader: The group is instructed by a virtual facilitator.
Delivery: In person or via Teams/Zoom
Duration: 1 hour
Introduction of the participants
What defines a great presenter?
Expectations and individual challenges

DAYS 2-13: PRESENTATION SKILLS – FOUNDATIONs
Self-study
Duration: 2+ hours
The basics of presentation skills
The audience, the speaker and the message
Finding the perfect behavior
Finding the right words

DAY 14: QUESTION & aNSWERS
Leader: Speaker's Coach
Delivery: In-person or via Teams/Zoom
Duration: 1 hour
Questions and answers
Follow-up of learning objectives
Introduction to prepared presentation 1

DAYS 15-20: PRESENTATION SKILLS – TECHNIQUEs
Self-study
Duration: 3+ hours
Presentation tools
Challenging situations
Training techniques
Preparation for individual presentation 1

DAY 21: INDIVIDUAL PRESENTATIONs with group feedback
Leader: The group receives instructions from a virtual facilitator.
Delivery: In person  or via Teams/Zoom
Duration: 2.5 hours
Individual presentation 1
Feedback
Discussion

DAYs 22-27: individual PREPARATIONS
Self-study
Duration: 2+ hours
Preparation for individual presentation 2

DAY 28: COACHING SESSION
Leader: Speaker's coach
Delivery: In person or via Teams/Zoom
Duration: 3.5 hours
Individual presentation 2
Feedback session
Individual presentation 3
Conclusions
Said about the course
"One of the best trainings I had"
"Clear structure, I really appreciated the combination of self-study (the materials are very informative) and group sessions. Plus, Erik Mattsson is warm and charming and knowledgeable in his area. "
"[The] self-managed presentation workshop was a good warm-up for final coaching session. When people learn the rule of thumb, practice and then with more official coaching, then its good learn process. In one word, i like it!"
"I learned a lot and definitely improved my presentation skills"
---
Documentation
The program is built on – and includes:
---